Last week marked my first April-MySQL-Conf since 2009, and now that I'm back home I wanted to reflect on some of my personal highlights.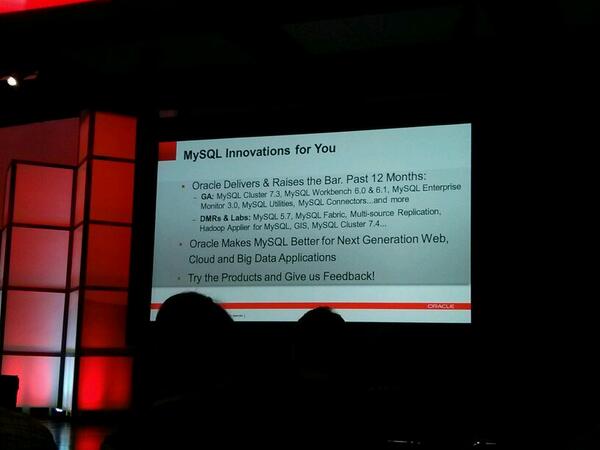 Photo Credit: @miguel2angel
Tomas' keynote on Wednesday morning was awesome. It felt great to be part of the team at Oracle that announced a release 2x faster than MySQL 5.6 and 3x faster than MySQL 5.5. The Parser+Optimizer+InnoDB GIS labs release is also a great sign of things to come.
Hosting the meet the MySQL team @ Oracle BOF Wednesday night, and answering community questions with my colleagues on our engineering team. It was a pleasant surprise to have Mark Callaghan (Facebook) and Peter Zaitsev (Percona) come and join in as well.
Attending some of my colleague's sessions and collating feedback from attendees. In Luis Soares' what's new in replication session, we received a couple of great suggestions which we will certainly investigate in more detail.
Learning how to use new tools. For me, this will be the R programming language (something I had heard of many times before, but never taken a closer look at). It was also great to see MySQL Workbench's Visual Explain in Bill Karwin's query optimization talk.
Seeing our ecosystem expand. The two new technologies that I am most excited about are VividCortex and WebScaleSQL. With WebScaleSQL, it's a great endorsement to see it based on MySQL 5.6.
I'm back home this week, then on to vacation next week!