I have been building a CloudFormation template for MySQL Fabric as an experiment to kick the tyres and further my understanding of how it all works.
For those not familiar, CloudFormation is a way of representing a collection of Amazon Cloud resources (a "stack") into a static json file (a "template"). In my previous company, we managed our AWS account almost exclusively via CloudFormation, and there are two key advantages I see with managing resources via templates:
It allows for all environments to be synchronized (dev/qa/production).
It allows for very fast disaster recovery (you can very quickly pick up and restore in another region).
CloudFormation is also a great-fit for MySQL Fabric, since it can remove many of the essential bootstrap steps that come with building a distributed system. It took a bit of work, but I managed to build a template to bring Fabric installation down to three simple questions: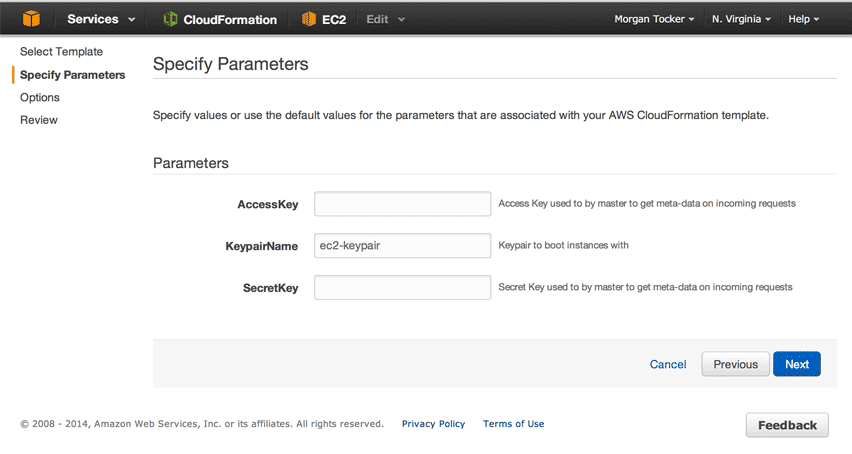 Here are some of the interesting parts:
I am using the latest Amazon Linux AMI + the official MySQL yum repositories.
The fabric HA group GLOBAL1 is created in an AutoScalingGroup.
When the instance in the AutoScalingGroup starts up, it talks back to the fabric backing store to add itself to the HA group.
If the AutoScalingGroup is expanded to 2, a new instance will talk to the fabric backing store, find a peer in the same group and create a backup. Once the backup is restored on the new server, it will add itself to the Fabric HA group.
The less interesting part of course is that this is a proof-of-concept. It needs a bit of work to improve error checking etc. You can find the resulting code in my mysql-fabric-scripts project. The file stack.json can be uploaded directly into the Amazon Web Console.